Originally published on Dropzone.com in June of 2017.
Of all the basic orientations and body positions available, good old sitfly is the one that changes the most between indoor and outdoor flying. If you have done any head up training in a tunnel, your coach will very likely have been hitting you over the head from the very beginning about how you need to use your back more and your arms less. Learning to freefly is about understanding how each and every surface of your body can be presented to the wind in different ways that work together to create lift and drive. Your back is the biggest single surface that you have – and as such knowing how to use it properly and from early on not only makes flying head up easier on every other surface you use, it feeds into many, many other skills.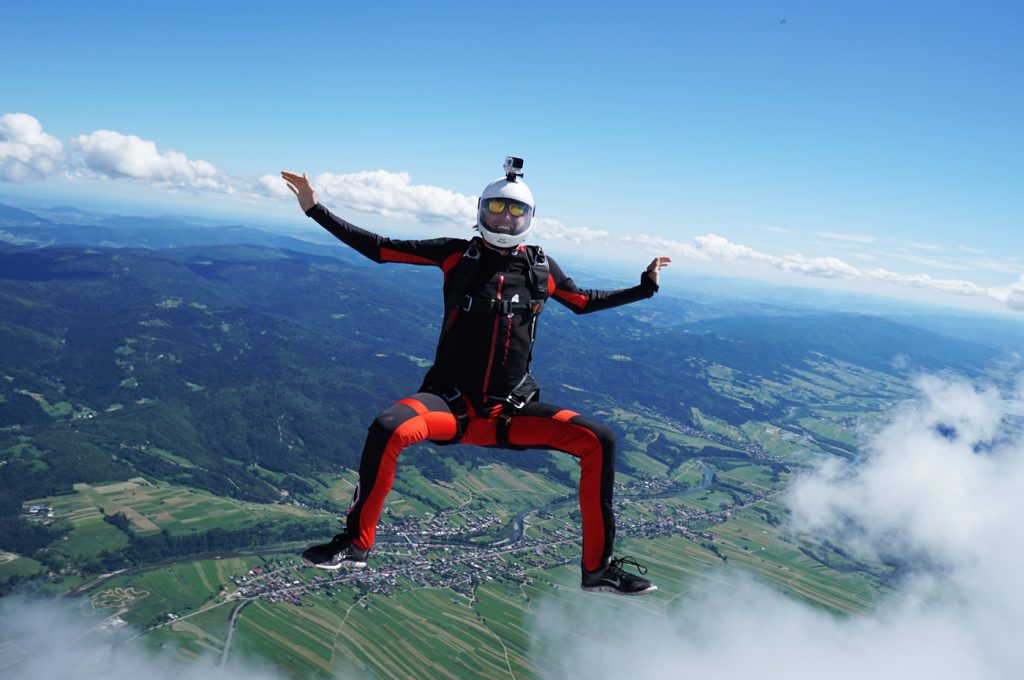 Head Up Is Cool
Just a mere handful of years ago it was much more common that sitfly abilities were seen as another frustrating speed bump on the way to 'getting head down' – and as with belly and backfly only the minimum possible understanding and skill development was needed (or tolerated) before you do the 'proper flying' that was cool and not lame. In no small part thanks to the macroscopic nature of modern tunnel training people now seem to mostly accept and understand that the path to improving as a flyer is one that embraces good foundational skills that cover all the orientations properly. The ways that programming your body via repetition to understand movement and build both confidence and awareness have such a strong symbiotic relationship that the better you are at one thing, the easier it is to learn another.
Being diligent and thorough with something that is comparatively easy will make the harder thing easier and you will get it much quicker.
Also, some imaginative people did awesome, progressive things with their feet pointing at the ground and as a result we have learned that doing head up flying is as challenging, rewarding and fun as anything else. With bigway records and complex feetsdown angle flying becoming more and more regular – head up has never been more exciting.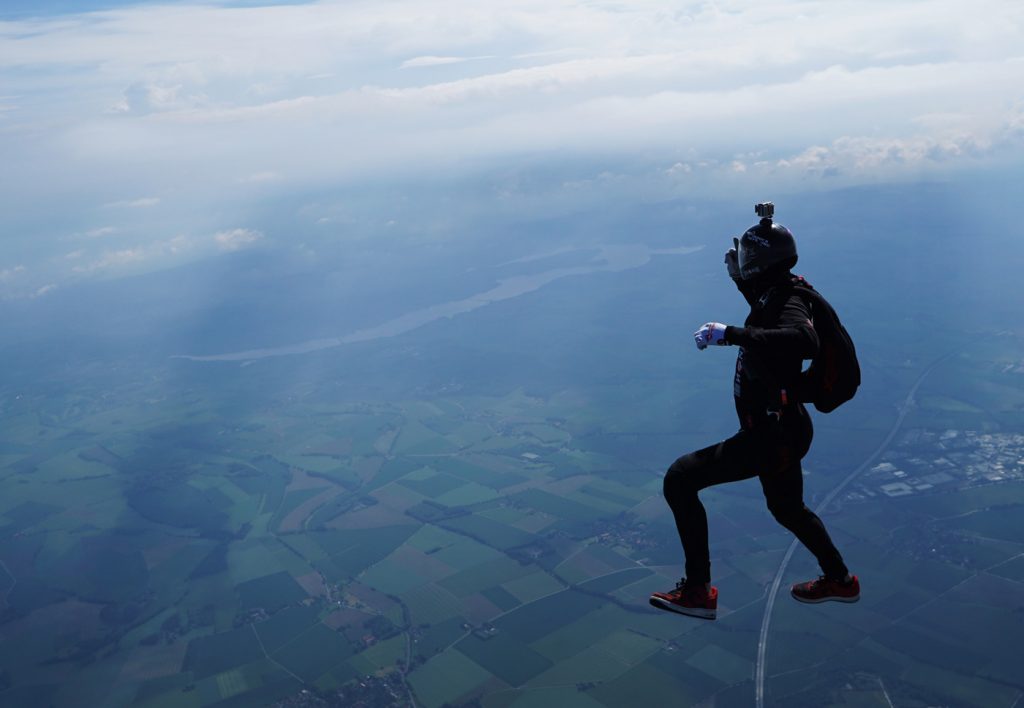 What About My Parachute?
Herein lies the difference. Your container assembly is made from a really grippy material and from the ass-end is not so aerodynamic. Also, as often as not, when flying head up your body position will generate a little (or a big) space between your back and your rig, exposing more surfaces to the wind that you need to consider. The sum total of these factors is that your rig hampers your ability to use your back to get about the place, and the balance of how you move shifts over to the other surfaces you have available – your arms and legs. When learning to sitfly a good coach will explain and demonstrate exactly how all the surfaces of your body work together and how to safely manage the difference between indoor and outdoor movement. Once you have learned how to do it, using your back for movement in the tunnel is easy peasy. When you put on a parachute and try the same thing while skydiving you will feel like your rig is trying to anchor you on the spot and you must adapt how you fly accordingly.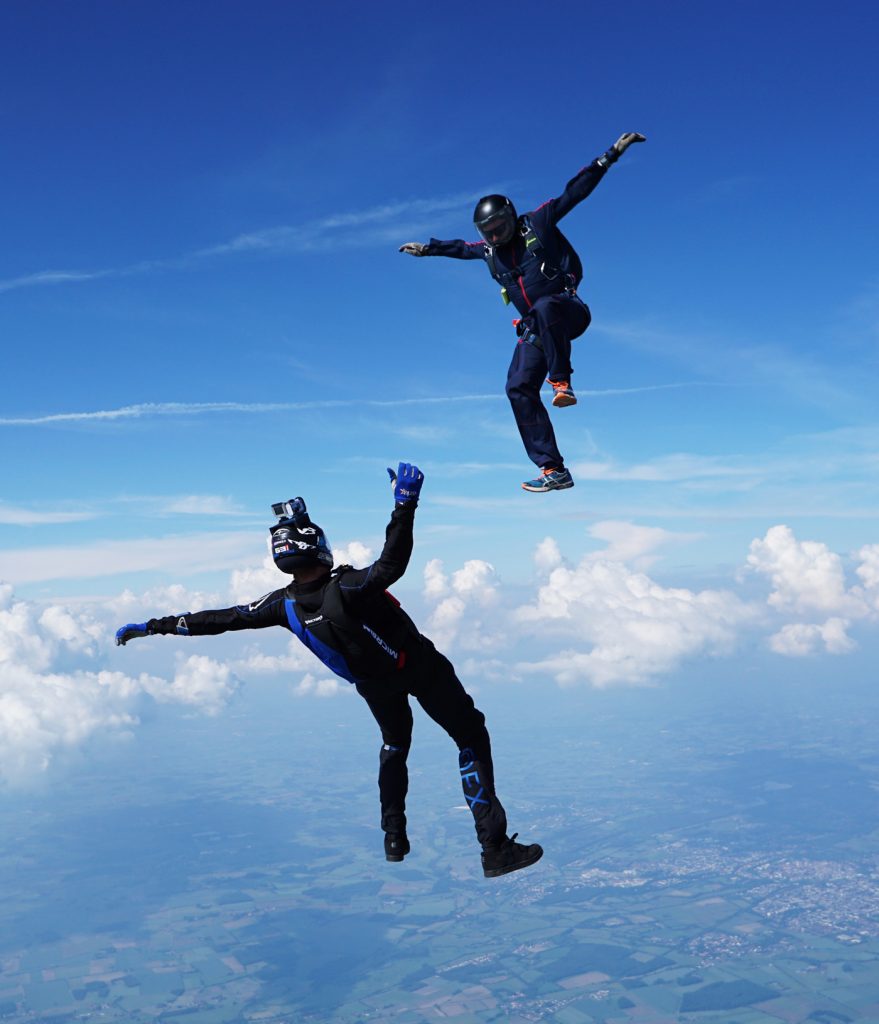 Technical Difficulties
While the following is true of other positions, a good early example of how developing good technique between the tunnel and sky is with sit. The tunnel is an enclosed space in which you need to generate the correct amount of lift with your body to fly and remain in the right place – whereas In the sky there is no net to worry about so strength and diligence with your body position becomes less important to maintain a position.
There is stability in speed and it is easier on your body to fly fast.
So, in the sky things feel a little looser and jumps tend to fly a little faster. This is great when applying things you have learned in the tube, as once you remember to be subtle you will have it nailed to the wall – but it is important to be aware that the same adaptation in reverse means it is easy to develop sloppiness and wind up battling with inefficient and tiring technique when you go back inside. The way to avoid this is always consider your body position as part of your pre and post jump process. When running through the plan in your brain, picture yourself flying in a proud, efficient position and break down the movements you are aiming for into each surface you will bring to bear on the wind. Afterwards, include analysis of not only what you did, but of how you did it as part of your personal de-brief. if there is video of the jump go through it frame by frame and deconstruct exactly what is happening with your body and how the changes you make effect your movement.